LEMON COLLECTION - 8/1 @ 12PM EST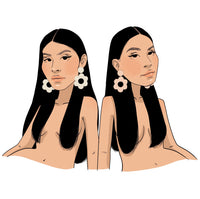 Assinewe Jewelry Founders
Edie and Jacquelyn Assinewe are twin sisters who were born and raised in Toronto, Ontario. They are members of Sagamok Anishnawbek First Nation. Both are full-time students studying business and fashion. They are bringing their passion to life with the creation of Assinewe Jewelry!
Edie miinwaa Jacquelyn Assinewe zhinikaazowag maamig niizhodenwag, mizhigo-bezhigowag ge. Toronto daawag. Sagamo-ninii-kweg yaawiwag. Maan pii, Ontario te maanda Sagamok First Nation. E-ji-niizhoowat, megwa maa Toronto, waa-ji-chi-zhitoong nokiiwinan ni-ji-kendaasowag. Mii dash gwa, aazhigwa, bi-bmaadisiimigak  maanda wii-ni-naabikising gichi-twaa zhitchiganan, Assinewe Jewelry, nokiiwin temigad.
OUR STORY
Testimonials
I really enjoy how light the are and they're not big, they're great for wearing for long hours! I really love them!

Anna F.
In love with my new fringe earrings! Beautiful design and well made! Definitely recommend!!

Dina K.
Honoured to own these one of a kind pieces of art that are so thoughtfully made.

Tina T.